At Patterson Road Tatts, News & Post we like to keep in touch with our customers. You'll find all the latest news, special offers and local community events on our website at www.pattersonroad.com.au and here in our monthly newsletter. In this edition you will find:
Tatts Card;

Your Newsagent - Weíre Here;

Tatts Games;

Fatherís Day Cards From Hallmark;

VTAC Guide Now In-store; and

Community Corner - Cancer Council Daffodil Day, Friday 22nd August.

Tatts Card - The Safest Way To Play
Join today for all the great benefits of a Tatts Card, the safest way to play Tatts lottery games.

Enter and record your favourite numbers every week without any hassles.

Store up to 50 coupons on your Tatts Card, register Quick Pick entries and change your numbers whenever you like. To record coupons onto your Tatts Card, hand over your card with completed entry coupons and ask our staff to store the entries onto your card.

Each time you present your Tatts Card we will be able to instantly find out if you have any unclaimed prizes.

Present your Tatts Card whenever you buy a lotto ticket, and if you have a win and the prize recorded on your Tatts Card is unclaimed for four weeks, Tatts will automatically send a prize cheque to your registered address, or notify you.


Your Newsagent - Weíre Here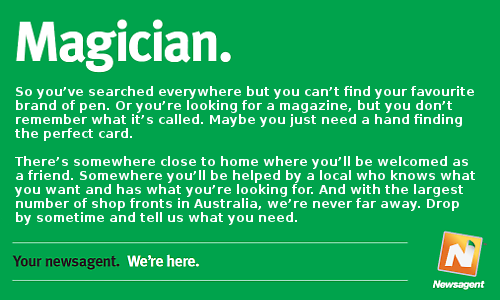 Tatts Games
Call in to Patterson Road Tatts, News & Post to get your entry in for this week's TattsLotto, Powerball, OzLotto, Monday & Wednesday Lotto, Super 66 and The Pools. You can also get a syndicate share for most draws and for the major jackpot draws, Superdraws and Megadraws. If you need some advice on how to play the games or join a syndicate, we're only too happy to be of assistance.



Thereís TattsLotto draw every Saturday night. With an estimated $4 million in the Division One prize pool up for grabs in every TattsLotto draw, you have the chance to make your dreams come true every week!



Powerball is the electrifying game that guarantees a Division One prize pool of at least $3 million every Thursday night and jackpots frequently throughout the year. Powerball may jackpot up to and over $50 million!



Oz Lotto is Australian for BIG jackpots guaranteeing a minimum division one prize pool of $2 million every Tuesday and can jackpot to $50 million or more!†



Monday and Wednesday Lotto draws offer a guaranteed minimum $1 million Division One prize pool for up to four winners.

Plus, keep an eye out for special Double Prize Money draws held throughout the year!



Super 66 is drawn every Saturday night after TattsLotto. Six balls are drawn from a machine with six compartments, each containing ten balls numbered 0-9. The six balls drawn make up the six digit Super 66 number in the order they were drawn.



Looking for something a little different? The Pools is a 6 from 38 lottery game where the winning numbers are based on results of soccer matches played in Europe, Australia and around the world instead of numbered balls being drawn from a barrel. You can play The Pools simply as a game of chance by picking numbers, or you can put your soccer knowledge to the test by choosing your numbers based on the teams competing on the Match List for that week.


Father's Day

Find the perfect card for Fatherís Day from our great range of Hallmark Greeting Cards.

Call in and browse through our range of Father's Day cards to find the perfect card for Dad on Father's Day. There's a great range on display you're sure to find one that's just right.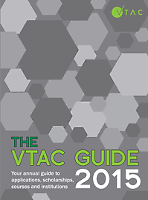 VTAC Guide Now In-store


The 2015 VTAC Guide is now available in-store at Patterson Road Tatts, News & Post.

The VTAC Guide is published annually by the Victorian Tertiary Admissions Centre and contains courses offered by institutions that participate in the VTAC system, information about the institutions, and general information about application procedures.






Community Corner - Daffodil Day, Friday 22nd August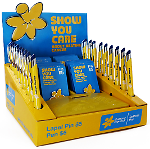 Support The Cancer Councilís Daffodil Day, Friday 22nd August, by making a purchase of a lapel pin or pen on sale at Patterson Road Tatts, News & Post through to the end of August.

The Cancer Council does not receive any ongoing government funding, so the vital work they do would not be possible without community support.

Your support will make a difference for cancer patients and their families all over Australia.


If you have a community event or local business you would like to promote here in "Community Corner" please contact gerard@pattersonroad.com.au.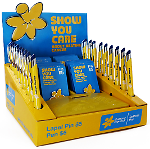 Licensed Australia
Post Office
Convenient hours for your Bank@Post agency banking and Post Billpay are available at Patterson Road Tatts, News and Post, seven days a week!
Monday to Friday
7-00 am to 6-30 pm
Saturday
7-30 am to 6-30 pm
Sunday
Closed
Public Holidays
Closed
Convenient Post Office hours with services including:
Bank@Post
PostBillpay
Western Union money transfer
Express Post
Find a Postcode International Post Postage Calculator
Gift Cards
Authorised Newsagency

myki Cards & Top-ups
Laminating
Newspapers
Magazines
Dry Cleaning
Photocopy Service
Fax Service
Hallmark
Greeting Cards
Cold Drinks and Milk
School Stationery
Cignall Tobacconist
Mobile & International Phone Cards
Prepaid Visa cards
Home Delivery

Lotteries
Tatts Representative
TattsLotto syndicates in all draws, including the
popular powerball field games syndicates - the powerball is guaranteed!


Intralot - The Luck Factory

Newsagency & Tatts Trading Hours

Monday to Friday
6-00 am to 6-30 pm
Saturday
6-30am to 6-30 pm
Sunday
Closed
Public Holidays
Closed