Syndicates and advance entries are now available for the $20 Million Tattslotto Superdraw to be drawn on Saturday 28th March, call in today and get your ticket to dream.

The Luck Factory offers the opportunity for you to try out something new, there's a great range of games with many prizes on offer. Select from the range of Lucky Tix scratchies or why not try your luck with Lucky Keno, Lucky Lines or Lucky Bingo Star. With the Luck Card you can keep track of your winnings and be assured you never miss a prize.

For your mobile recharge, all the top brands are available at Patterson Road Tatts, News & Post including Optus, Telstra, Virgin Mobile and Vodafone

Looking for the latest local weather information? It's all available for you at www.pattersonroad.com.au.

$20 Million Tattslotto Superdraw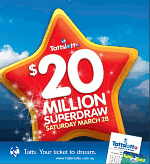 Saturday 28th March is Superdraw day, there's a massive $20 Million on offer.

Playing large system entries that offer multiple division prizes is available to you by taking a share in a Superdraw syndicate.

For the Superdraw we will be playing all of the following multiple system entry syndicates ranging from $15 to $100 per share.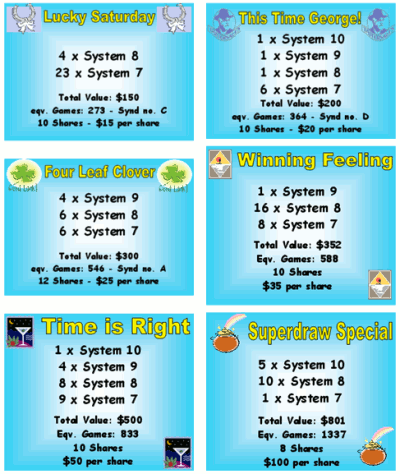 Call in today to reserve your share in a Superdraw syndicate or visit our Superdraw syndicates page at www.pattersonroad.com.au

The Luck Factory
With the Luck Factory there's a great range of games to play. Try something new, we'll be please to show you how to play or you can view the how to play guides on The Luck Factory page at www.pattersonroad.com.au.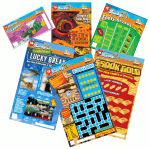 Lucky Tix, is a range of instant scratch tickets, ranging from $1 to $10 including the $2 -Footy Scores, $5 - Crossword and the $10 - $500k GOLD, the golden ticket with a top prize of $500,000.

Lucky Keno 70 is a game of chance played with a range of numbers from 1 to 70 and includes many new features, resulting in many daily winners.

Lucky Bingo Star is a new exciting Bingo game. The new Bingo game combines all the fun of traditional Bingo with new ways to participate and many winning categories.

Lucky Lines is a numerical game based on Noughts & Crosses. Lucky Lines is unique, introducing new ways of winning.

How to Keep Your Winnings Safe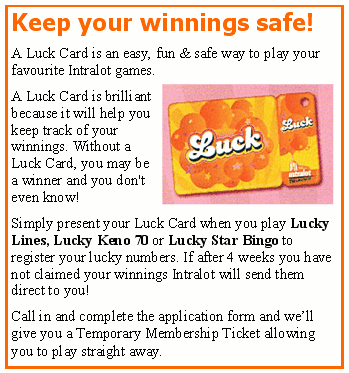 Prepaid Mobile

When itís time to recharge your prepaid mobile, Patterson Road Tatts, News & Post is the place to go. Itís quick and convenient with prepaid recharge vouchers available for all the big names including:
Community Corner


You can find all the local weather details on our website at www.pattersonroad.com.au The local weather information displayed includes: rainfall, temperatures and wind speed & direction. Up to date weather information is provided directly to our website by WeatherZone.

If you have a community event or local business you would like to promote here in "Community Corner" please contact gerard@pattersonroad.com.au.
Licensed Australia
Post Office

Convenient hours for your Bank@Post agency banking and Post Billpay are available at Patterson Road Tatts News and Post, seven days a week!

Monday to Friday
7-00 am to 6-30 pm
Saturday
7-30 am to 6-30 pm
Sunday
8-00 am to Midday
Public Holidays
8-00 am to Midday

Convenient Post Office hours with services including:
Bank@Post
PostBillpay
Western Union money transfer
Express Post


Find a Postcode International Post Postage Calculator
Gift Cards

Authorised Newsagency
Metcards


Laminating
Newspapers
Magazines
Dry Cleaning
Photocopy Service
Fax Service
Digital Photo Prints
John Sands
Greeting Cards
Cold Drinks and Milk
School Stationery
Cignall Tobacconist
Mobile & International Phone Cards
Prepaid Visa cards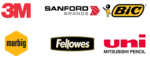 Online Stationery
Home Delivery

Lotteries
Tattersall's Representative
Tattslotto syndicates in all draws, including the
popular powerball field games syndicates - the powerball is guaranteed!
Intralot - The Luck Factory

Newsagency & Tattslotto Trading Hours

Monday to Friday
6-00 am to 6-30 pm
Saturday
6-30am to 6-30 pm
Sunday
8-00 am to 12-00 md
Public Holidays
8-00 am to 12-00 md