At Patterson Road Tatts, News & Post we like to keep in touch with our customers. You'll find all the latest news, special offers and local community events on our website at www.pattersonroad.com.au and here in our monthly newsletter. In this edition you will find:
a welcome to our new home delivery customers, along with customer service information;
online inkjets and a new range of toner cartridges;
Post Office hours to help avoid the Christmas rush;
gift cards from leading retailers; and
Community Corner.
Welcome to our new customers
Welcome to all our new home delivery customers who previously received their daily newspaper deliveries from Southern Distribution. We look forward to providing you with the best customer service we can, as we have done for our customers over the past 20 years.

A number of options are now available to you for account payments, stops and starts and general management of your account.

All account management including payments by cash, cheque, EFTPOS and credit card is available at: Patterson Road Tatts, News & Post 51 Patterson Road, Bentleigh Ph: (03) 9557 5794 Payment by cash only may be made at these payment points: East Bentleigh News and Lotto - 761 Centre Road, East Bentleigh; Ormond Newsagency - 519A North Road, Ormond & South Oakleigh Newsagency - 1146 North Road, South Oakleigh

Delivery stops & starts and payments by Visa, Mastercard or internet banking may be completed online at: www.pattersonroad.com.au

Should you have any questions, requests or issues with delivery of your morning newspapers, please do not hesitate to contact us.

Inkjet and Toner Cartridges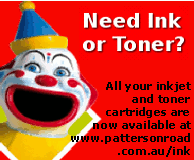 When you need ink or toner visit www.pattersonroad.com.au/ink for toner and inkjet cartridges for all the main printer makes & models.

You'll find original and compatible cartridges available to purchase for speedy delivery direct from our supplier's warehouse.

You'll also find lots of specials including 30% off Brother Keytek compatible cartridges and 25% off quality Keytek photo paper. Don't miss these great specials available now at www.pattersonroad.com.au/ink

Post Office Hours to Avoid the Christmas Rush

Avoid the rush in getting organized for Christmas. Our Post Office hours include early opening, late closing and we're open on the weekend.

There's no need to rush around and wait in queues. For all your Post Office needs find a time that suits you at Patterson Road Tatts, News & Post.
Convenient Post Office Hours at
Patterson Road Tatts, News & Post
7-00 am to 6-30 pm Monday to Friday

7-30am to 6-30 pm Saturday

8-00 am to 12-00 md Sunday & Public Holidays


Gift Cards

Community Corner
In Community Corner we feature local events, community groups and businesses here in our newsletter and online at www.pattersonroad.com.au.

Visit Community Corner online and right now you will find information about West Bentleigh Cricket Club, Moorabbin Bowling Club and Victory Park Tennis Club. We also feature local businesses such as New-Web, BP Service Station, Blow Out Hairdressing, Victorian Taekwondo Academy, Funeral Line Australia and Cafe Crema.

Also at Community Corner online you'll find a variety of historic photographs of our local area.


If you have a community event or local business you would like to promote here in "Community Corner" please contact gerard@pattersonroad.com.au.

Licensed Australia
Post Office

Convenient hours for your Bank@Post agency banking and Post Billpay are available at Patterson Road Tatts News and Post, seven days a week!

Monday to Friday
7-00 am to 6-30 pm
Saturday
7-30 am to 6-30 pm
Sunday
8-00 am to Midday
Public Holidays
8-00 am to Midday

Convenient Post Office hours with services including:
Bank@Post
PostBillpay
Western Union money transferr
Express Post


Find a Postcode International Post Postage Calculator
Gift Cards

Authorised Newsagency

Metcards


Laminating
Newspapers
Magazines
Dry Cleaning
Photocopy Service
Fax Service
Digital Photo Prints
John Sands
Greeting Cards
Cold Drinks and Milk
School Stationery
Cignall Tobacconist
Mobile & International Phone Cardsds
Prepaid Visa cards

Home Delivery


Lotteries

Tattersall's Representative
Tattslotto syndicates in all draws, including the
popular powerball field games syndicates - the powerball is guaranteed!
Intralot - The Luck Factory

Newsagency & Tattslotto Trading Hours

Monday to Friday
6-00 am to 6-30 pm
Saturday
6-30am to 6-30 pm
Sunday
8-00 am to 12-00 md
Public Holidays
8-00 am to 12-00 md