Need Ink? Now you can find all your inkjet printer cartridges available to purchase online for speedy delivery. Visit www.pattersonroad.com.au/ink and you'll find all the main compatible and original cartridges and lots of specials.

With $20 Million on offer, the Halloween Superdraw should not be missed, get your advance entries or syndicate shares today. Why not get together at work or with family and friends to create your own syndicate? Syndicate planners are available on our website to help you get your syndicate organized.

If you have a community event coming up, or would like to promote your local community group or business, let us know and we'll include it in our newsletter and online in "Community Corner"

Inkjets Online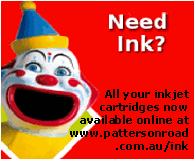 When you need ink, go to www.pattersonroad.com.au/ink for inkjet cartridges for all the main printer makes & models.

You'll find original and compatible cartridges available to purchase for speedy delivery direct from our supplier's warehouse. You'll also find lots of specials including 25% off quality Keytek photo paper.

$20 Million Halloween Superdraw
Join in the Halloween
Superdraw on
Saturday 31st October,
there's a massive
$20 Million on offer!

Advances entries and
Halloween Superdraw
Syndicates are
now available.
Call in today to reserve your share in a Halloween Superdraw syndicate or visit our Superdraw syndicates page online.

Syndicate Planners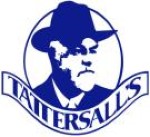 For the Halloween Superdraw or when the next big Jackpot draw comes around, or even weekly, you may like to organise your own syndicate at work or with family and friends.

Now you can get a syndicate planner from www.pattersonroad.com.au and find all the information you need to help you organise your own syndicate for Super 7's Oz Lotto, Powerball or Tattslotto.

Price guides, which include system entry prices, are available to help you make up your syndicate and you can also see the multiple division prizes you may win with system entries.

Prepaid Mobile

When it's time to recharge your prepaid mobile, Patterson Road Tatts, News & Post is the place to go. It's quick and convenient with prepaid recharge vouchers available for all the big names including:

Community Corner

Patterson Road Tatts, News & Post is proud to sponsor our local newsletter for the Neighbourhood Watch Program.

To find out more about the Neighbourhood Watch Program visit the website: www.neighbourhoodwatch.com.au.



If you have a community event or local business you would like to promote here in "Community Corner" please contact gerard@pattersonroad.com.au.

Licensed Australia
Post Office

Convenient hours for your Bank@Post agency banking and Post Billpay are available at Patterson Road Tatts News and Post, seven days a week!

Monday to Friday
7-00 am to 6-30 pm
Saturday
7-30 am to 6-30 pm
Sunday
8-00 am to Midday
Public Holidays
8-00 am to Midday

Convenient Post Office hours with services including:
Bank@Post
PostBillpay
Western Union money transfer
Express Post


Find a Postcode International Post Postage Calculator
Gift Cards

Authorised Newsagency
Metcards


Laminating
Newspapers
Magazines
Dry Cleaning
Photocopy Service
Fax Service
Digital Photo Prints
John Sands
Greeting Cards
Cold Drinks and Milk
School Stationery
Cignall Tobacconist
Mobile & International Phone Cards
Prepaid Visa cards

Home Delivery


Lotteries

Tattersall's Representative
Tattslotto syndicates in all draws, including the
popular powerball field games syndicates - the powerball is guaranteed!
Intralot - The Luck Factory

Newsagency & Tattslotto Trading Hours

Monday to Friday
6-00 am to 6-30 pm
Saturday
6-30am to 6-30 pm
Sunday
8-00 am to 12-00 md
Public Holidays
8-00 am to 12-00 md