At Patterson Road Tatts, News & Post we like to keep in touch with our customers. You'll find all the latest news, special offers and local community events on our website at www.pattersonroad.com.au and here in our monthly newsletter. In this edition you will find:
2012 Age Good Food Guide is Now Out;

$22 Million TattsLotto Superdraw;

John Sands Card Club;

Your Post Office - Open Early, Late & Weekends; and

Community Corner: Steve Bailey - Personal Trainer.

2012 Age Good Food Guide is Now Out!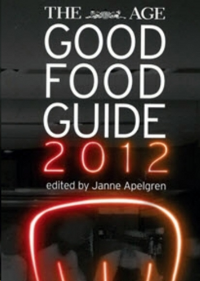 It's back and bigger than last year. Janne Apelgren and her team of secret reviewers have eaten their way around Victoria to bring you the best places to eat, drink and be merry. Every place in this year's Guide has something special.
Authoritative, incisive reviews and recommendations
Features the top culinary trends of 2012
All meals are paid for ensuring the independence of our reviews
More than 100 eating places new to the Guide, including 30 new gourmet cafes
Wheelchair friendly, family friendly, late night and great views indexes
The 10 Hottest New Restaurants
Lists of the best bars, gourmet cafes, coffee
"Five of the Best" eateries in categories including late, one night only, outdoor, cheap eats, vegetarian degustation and gourmet getaways

Call in today and get your 2012 Age Good Food Guide for just $29.95.

$22 Million TattsLotto Superdraw

The $22 Million TattsLotto Superdraw is coming up on Saturday 22nd October. Call in today and pick up your ticket to dream or contact us to reserve your syndicate shares.

Superdraw Syndicates now available.
Click below for details.

John Sands Card Club

Download the John Sands Card Club voucher and present it to be stamped at our store, 51 Patterson Road, Bentleigh each time you purchase a John Sands greeting card and get the 6th Card free.*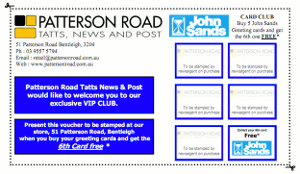 * see voucher for conditions
Your Post Office
Open Early, Late & Weekends

Avoid the rush in getting organized for Christmas. Our Post Office hours include early opening, late closing and we're open on the weekend.

There's no need to rush around and wait in queues. For all your Post Office needs find a time that suits you at Patterson Road Tatts, News & Post.

Our Post Office trading hours are:

Monday to Friday: 7-00 am to 6-30 pm
Saturday: 7-30 am to 6-30 pm
Sunday & Public Holidays: 8-00 am to 12-00 md (Closed Christmas Day)



If you need to get your Christmas Parcels on their way or are sending off parcels from your sales on ebay, our convenient Post Office hours help you to get it all done at a time that suits you, including all day Saturday & Sunday mornings.
Community Corner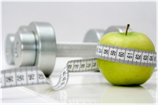 Steve Bailey - Personal Trainer
Ph: 0412 762 344

How much money and time have you wasted on starting then stopping a new exercise program? How long do you want to wait to get in shape to lose those nagging kilos? Regain your confidence; achieve those goals that have been out of reach!

Hi , my name is Steve Bailey and I develop systems that produce weight loss and pain relief!

Testimonial …… "After being in my early 30's, I came to that turning point in my life where I had to decide … stay unhealthy and over weight ( 135kgs ) and probably be dead by 50 …. Or do something about it. This is when Steve Bailey came into my life. Steve was able to help me through the struggles of turning my life around; offering me strategies and plans to achieve my goals. Steve helped me prepare and successfully achieve my goals of trekking to Mt Everest base camp and climbing Mt Kilimanjaro …. while also supporting me to lose 40 kgs. The advice and support Steve gives me today has added years to my life … what I do with them is now up to me!" …. Gerard Munday, General Manager, Patterson Road Tatts, News and Post

To meet Steve, view his video introduction at: www.pattersonroad.com.au/communitycorner

0412 762 344 or email steve@integratetraining.com.au




If you have a community event or local business you would like to promote here in "Community Corner" please contact gerard@pattersonroad.com.au.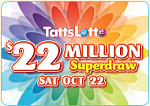 Licensed Australia
Post Office
Convenient hours for your Bank@Post agency banking and Post Billpay are available at Patterson Road Tatts News and Post, seven days a week!
Monday to Friday
7-00 am to 6-30 pm
Saturday
7-30 am to 6-30 pm
Sunday
8-00 am to Midday
Public Holidays
8-00 am to Midday
Convenient Post Office hours with services including:
Bank@Post
PostBillpay
Western Union money transfer
Express Post
Find a Postcode International Post Postage Calculator
Gift Cards
Authorised Newsagency

Metcards
Laminating
Newspapers
Magazines
Dry Cleaning
Photocopy Service
Fax Service
Digital Photo Prints
John Sands
Greeting Cards
Cold Drinks and Milk
School Stationery
Cignall Tobacconist
Mobile & International Phone Cardsds
Prepaid Visa cards
Home Delivery

Lotteries
Tattersall's Representative
TattsLotto syndicates in all draws, including the
popular powerball field games syndicates - the powerball is guaranteed!


Intralot - The Luck Factory

Newsagency & Tattslotto Trading Hours

Monday to Friday
6-00 am to 6-30 pm
Saturday
6-30am to 6-30 pm
Sunday
8-00 am to 12-00 md
Public Holidays
8-00 am to 12-00 md