Posting early for Christmas allows you to take advantage of the savings offered by sending your Christmas parcels by sea mail. The complete range of sea mail closing dates is included here to help ensure you get your parcels in the post in time.

Getting your Christmas parcels on their way or sending of parcels from your sales on ebay is easy and convenient with our Post Office trading hours.

Helping small business to make the most of the internet, New-Web offers practical web solutions for small business including small business websites and Google AdWords advertising.

In Community Corner West Bentleigh Cricket Club invites you to "Come and enjoy a family club for the 2009/10 cricket season."

International Parcels

Posting early for Christmas can save you dollars. For example a 750gm to 1kg parcel to the UK is just $18.80 by sea mail compared to $34.10 by air mail. You may explore other examples using the link on our website to the Australia Post Postage Assessment Calculator.

To assist you to take advantage of these savings we have listed the Christmas sea mail closing dates. These dates are for Sydney departures so post early to allow time for parcels to arrive in Sydney.

Our Post Office Agency trading hours include early morning trading and late closing along with Saturday, Sunday and Public holiday trading, so there's plenty of opportunity to get your sea mail parcels on their way early for Christmas.
Christmas 2009
Sea Mail Closing Dates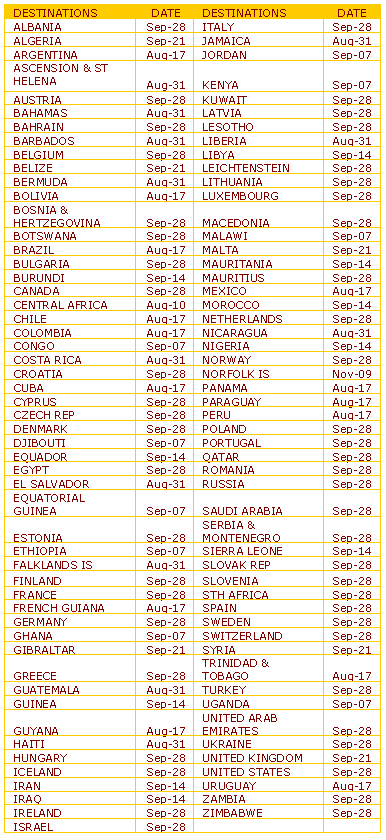 Post Office Hours
If you need to get your Christmas Parcels on their way or are sending off parcels from your sales on ebay, our convenient Post Office hours help you to get it all done at a time that suits you.

Our Post Office trading hours are:

Monday to Friday: 7-00 am to 6-30 pm

Saturday: 7-30am to 6-30 pm

Sunday & Public Holidays:
8-00 am to 12-00 md

New-Web
110 Patterson Road, Bentleigh
Ph: (03) 9557 4922

New-Web, operating in Patterson Road since 2006, offers practical web solutions for small business. Services offered include small business websites, Google AdWords advertising, domain names including personal or business .tel domains, click calling and e-mail marketing.


If you would like a free review and some practical suggestions to improve your business, or to simply get started, on the internet contact New-Web on (03) 9557 4922 or visit www.new-web.com.au


Community Corner
West Bentleigh Cricket Club
Victory Park, Patterson Road, Bentleigh



West Bentleigh Cricket Club invites you to "Come and Enjoy a Family Club for the 2009/10 Cricket Season!"

Located at Victory Park in Patterson Road, the club offers family involvement with:
4 Senior Teams (Longmuir Shield, CMAC)

Under 12 (modified), 14 and 16 teams. Milo program for children aged 5 - upwards
For further information visit the club's website at www.westbentleighcc.com.au or contact:
Danny Frew - (Senior Coach) 0431 609 786

Simon Poll - (Junior Manager) 0421 817 950

Chris Kelly - (President) 0407 592 534 or 9557 4447


If you have a community event or local business you would like to promote here in "Community Corner" please contact gerard@pattersonroad.com.au.

Licensed Australia
Post Office

Convenient hours for your Bank@Post agency banking and Post Billpay are available at Patterson Road Tatts News and Post, seven days a week!

Monday to Friday
7-00 am to 6-30 pm
Saturday
7-30 am to 6-30 pm
Sunday
8-00 am to Midday
Public Holidays
8-00 am to Midday

Convenient Post Office hours with services including:
Bank@Post
PostBillpay
Western Union money transfer
Express Post


Find a Postcode International Post Postage Calculator
Gift Cards

Authorised Newsagency
Metcards


Laminating
Newspapers
Magazines
Dry Cleaning
Photocopy Service
Fax Service
Digital Photo Prints
John Sands
Greeting Cards
Cold Drinks and Milk
School Stationery
Cignall Tobacconist
Mobile & International Phone Cards
Prepaid Visa cards

Home Delivery


Lotteries

Tattersall's Representative
Tattslotto syndicates in all draws, including the
popular powerball field games syndicates - the powerball is guaranteed!
Intralot - The Luck Factory

Newsagency & Tattslotto Trading Hours

Monday to Friday
6-00 am to 6-30 pm
Saturday
6-30am to 6-30 pm
Sunday
8-00 am to 12-00 md
Public Holidays
8-00 am to 12-00 md