Prepaid Visa

Prepaid Visa cards are becoming increasingly popular for online purchases, for teenagers and to give as gifts.

A variety of prepaid Visa cards are available to suit all purposes whether it's for shopping online, emergency funds for your teenager, a gift or for employee rewards.

Here's an overview of the prepaid Visa cards we have available. There's additional information available in store for all the Visa Prepaid card options.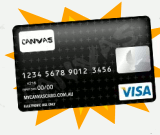 Canvas is a reloadable Visa card, simply purchase a Canvas prepaid Visa card, add any value up to $1000 then once you activate the card online you're ready to shop and play.

Your Canvas card is reloadable so you simply call in and top up your card at anytime.


V-CARD is a virtual prepaid Visa which is ideal for online shopping, offering convenience, safety and control. You can load any value between $50 and $1000. Your V-CARD voucher provides the Visa card number, expiry date and security code for your online shopping, over the phone or by mail order.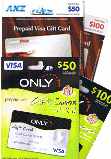 ANZ Prepaid Visa Gift Card and Only 1 Prepaid Visa Gift Card allow you to give a gift to the value of $50 or $100. The lucky recipient will be able to use their Visa gift card like a normal Visa card for purchases in store, online or over the phone.